Will Cuba Start a New Food Revolution?
Unless you've been living under a rock, you've probably heard a lot about President Obama trying to improve U.S. diplomatic relations with Cuba, our Caribbean neighbor just 90 miles south of Florida. The news of a possible trade agreement between the two countries has generated extreme interest in the island nation, not only by Americans who are flocking to see Cuba before it changes for good, but also by business owners looking into the opportunity to invest in the country or import goods when the time comes.
Since December 2014, American visits to Cuba have risen by 77 percent and it's expected to increase even more this year. So, perhaps it's not a complete shock that two Clevelanders would randomly bump into each other at a microbrewery in Havana's Plaza Vieja. One of them was my travel companion, Erin Huber, the executive director of Drink Local. Drink Tap., a water-advocacy organization based in the same building as the Edible Cleveland office. And the other was Sam McNulty, the owner of Market Garden Brewery, Bar Cento, Nano Brew, Speakeasy and Bier Markt, all located in Ohio City. As the chief beer taster for his own establishments, there was no doubt he was doing lots of professional research on local beer.
"Let's just say that governments are notoriously bad at making things," he says. "The beer in Cuba was no exception. They were all skunky adjunct lagers with no redeeming qualities. We did find a brewpub on the malecón that had a wonderful location. I only wish I could say the beers were good."
Even if the beer were halfway decent, it would be hard to find. Cristal, the most popular brand of beer in Cuba, is in short supply like many other products in the country, says Joseph L. Scarpaci, the author of Marketing without Advertising and the executive director for the Center for Cuban Culture + Economy based in Blacksburg, Virginia. To make up for the scarcity, "the government is importing Presidente from the Dominican Republic," he tells me. "Now, people ask for an Obama, as in 'Give me an Obama!' [Our president] is incredibly popular there because he is a man of color and he wants to remove the embargo."
When or if the U.S. Congress votes to lift the embargo remains to be seen, but most Cubans I spoke to are cautiously optimistic that changes in the status quo will improve their lives. They've had to live with the reality of food shortages and rationing for the last 50 years. In the early 1980s, rations included enough rice, beans, lentils, milk, coffee, chicken and beef to last for a month, says Medea Benjamin, an American political activist who was born in Cuba. In an article for Telesur, she writes about the rationing system in Cuba, adding that in the 1990s, right after the fall of the Soviet Union, food imports dropped dramatically and the average person lost 20 pounds and suffered from persistent hunger. Although things have improved since then, the rations are barely enough to sustain a family. These days, each Cuban receives a monthly ration of seven pounds of rice, a pound of beans, cooking oil, bread, sugar and a small amount of eggs, chicken or fish and spaghetti.
The impact from a rise in tourism in a country where 70-80 percent of its food is imported from places like China, Spain, Brazil, Canada and Mexico (and even some from the U.S.) could mean additional shortages for the local population as the number of visitors accelerates. "Cubans already fear the rise of prices and scarcity," says Scarpaci. "The private sector and state-run tourist hotels already siphon some consumer goods, such as beer, milk, good cuts of meat that ordinary Cubans cannot get readily."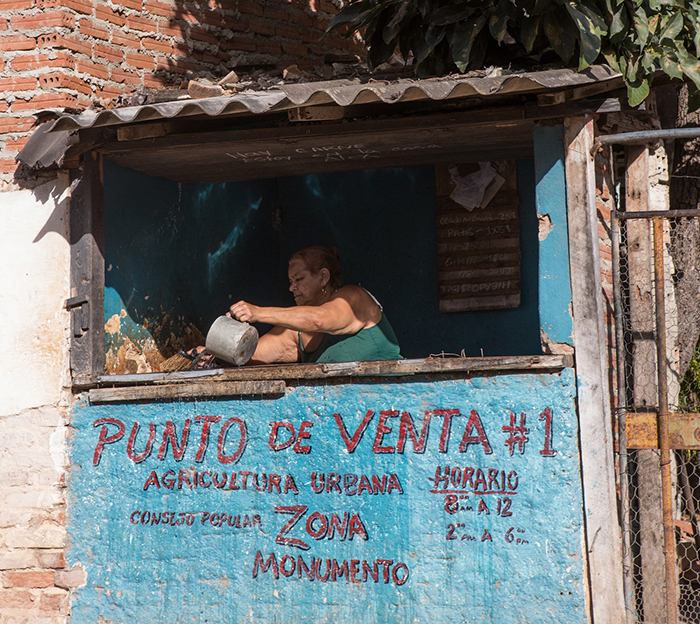 A local vendor sells fruits and vegetables from a small stall in Trinidad.
That said, what does all of this mean for foodies who would like to experience Cuba's culinary scene? I read an article just this week that likened dining in Cuba to playing Russian roulette. Eating, especially in a government-run establishment, is a gamble. After my massage therapist came back from Cuba complaining about the bland and boring food, my expectations were very low. However, after I had my first meal in Cuba, my hopes were lifted. But, you have to venture out of the hotel.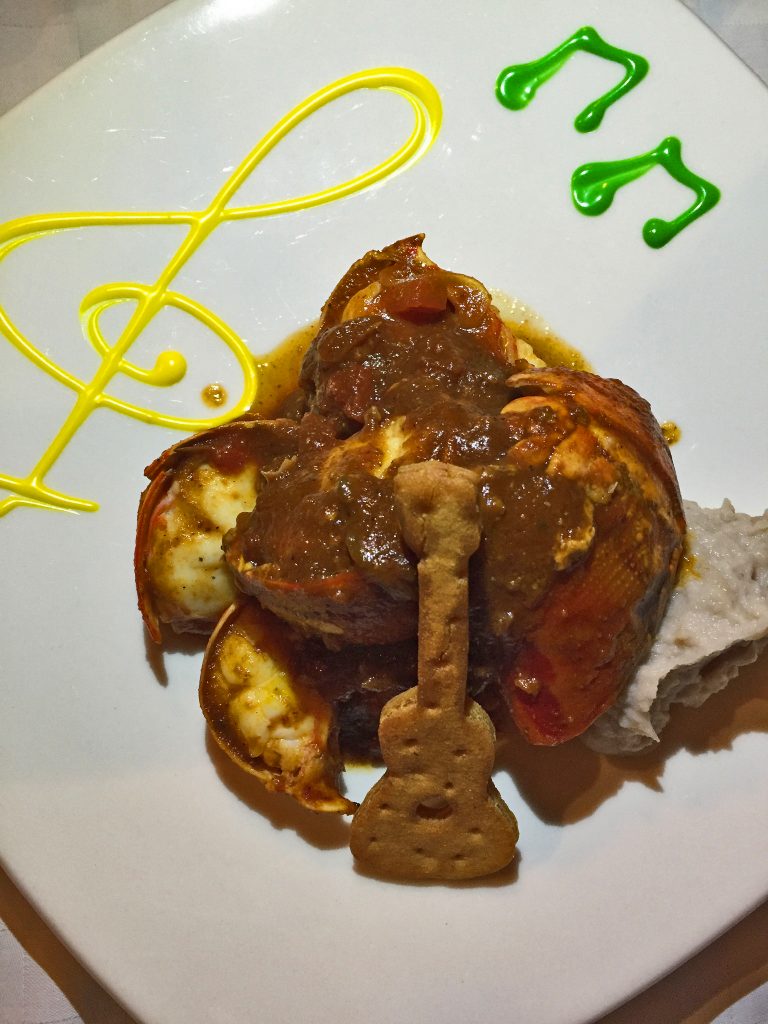 A great dining experience awaits at Cuban paladars, such as Guitarra Mia in Trinidad, where I dined on fresh-caught lobster in an adobo sauce.
If you really want a decent meal, it's better to visit a paladar, which is a private-run restaurant usually operated out of someone's home. Before the Cuban government authorized self-employment in the 1990s, many of these small restaurants started up illegally in response to the economic crisis that resulted from the fall of the Soviet Union. Now, paladars are putting Cuban cuisine on the map because of good old-fashioned ingenuity and resourceful by the Cuban people, who have learned how to improvise. Menus change daily depending on the availability of the ingredients. Some luxury food items like wine, cheese and smoked salmon may have been acquired on the black market or smuggled into the country in relatives' suitcases, according to a report by NPR from 2014.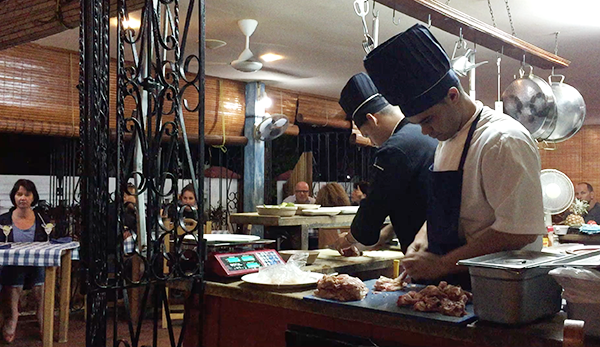 El Idilio in Havana's Vedado neighborhood.
At most restaurants, you'll find staple items like rice, beans and plantains, but there's also a heavy reliance on meat dishes like classic ropa vieja (shredded beef). At the Paladar El Idilio in Havana's Vedado neighborhood, I tried chicken breast stuffed with pineapple then wrapped in bacon. Although the Cuban server warned me that the dish would be drier than its dark-meat counterpart, I found the meal to be juicy and delicious. At Guitarra Mia in Trinidad (four hours southeast of Havana), I drooled over the fresh lobster served in a spicy adobo sauce. That meal concluded with complimentary cigars made from locally grown tobacco. I didn't smoke mine, but I brought it home since Americans now can legally bring back $100 worth of Cuban cigars.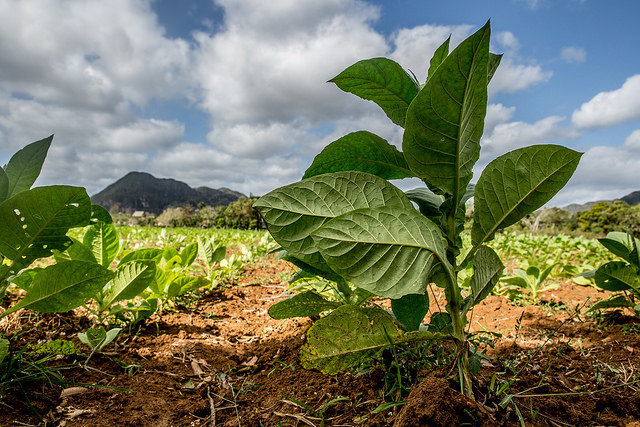 The vast majority of the agricultural land in Cuba is devoted to growing tobacco for cigars. The government controls 75 percent of the crop, which goes into making Cohibas and other popular brands.
We had no trouble finding a good meal wherever we went, but rumors of food shortages persisted during the week-long visit in February, especially in the heavily touristed town of Viñales. That came as a shock, considering the town is in a predominantly agricultural region. But tobacco is its main crop and the Cuban government controls 75 percent of it. During a horseback riding excursion to visit tobacco and coffee plantations, we passed a number of organic farms growing lettuce, a variety of vegetables, potatoes and pineapple. A system of organopónicos, or cooperative organic farms, has emerged in the last 20 years as a community response to the lack of food diversity and security. However, the system hasn't resolved the country's reliance on imports.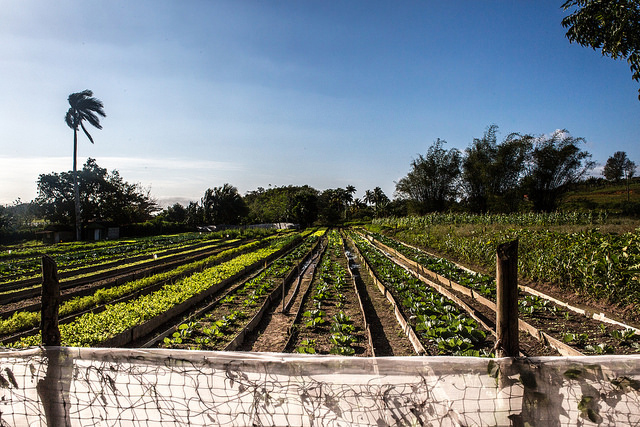 Lettuces and other vegetables grow on an organic farm near Viñales, Cuba.
Where there are shortages right now, some see opportunities for the future, especially now that the U.S. is easing restriction on trade with the country. New regulations that went into effect in late January allows more sales to Cuban government entities so long as the transactions "provide goods and services to the Cuban people." Under the revised rules, U.S. companies can sell to government agencies that help the Cuban people, including those in the fields of agricultural production, education, food processing and water supplies.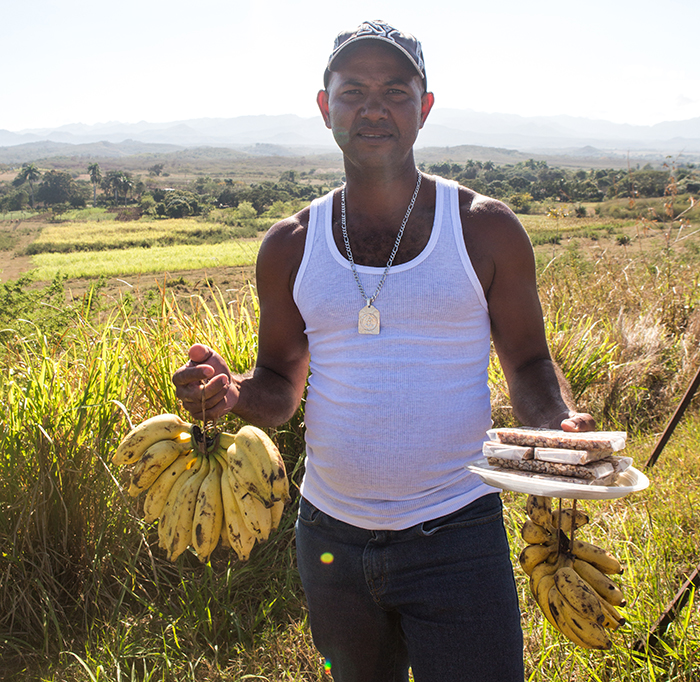 On the road from Trinidad to Viñales, we stopped to buy bananas from a local guy selling bunches on the side of the road.
For the benefits to be felt by the everyday Cuba, the U.S. hopes the Cuban government will make it easier for citizens to start businesses and engage in trade. "Cubans are fed up with cowboy capitalism and centrally planned economies," says Scarpaci. "They want to put a decent meal on the table each night, give their kids decent clothes, and have their kids go to (free) school with a backpack that is sturdy. These are not overly conspicuous consumption goals."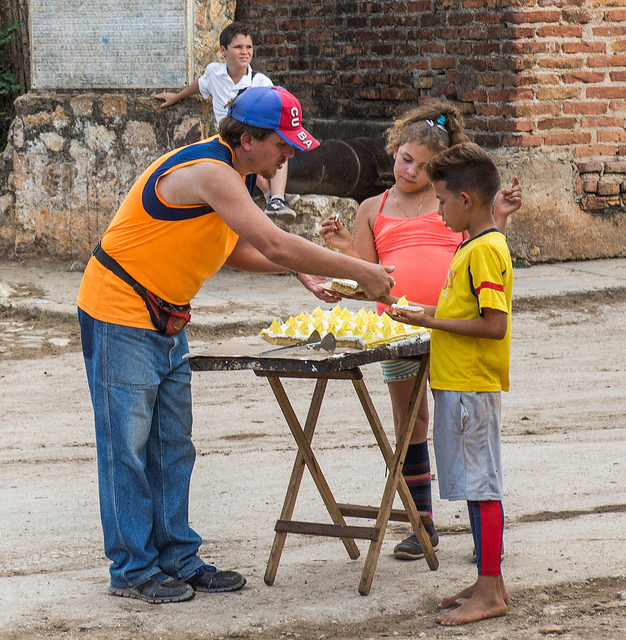 A food vendor sells dessert on the streets of Trinidad.
It may be awhile — and hopefully never — before Cuba has a McDonalds or Starbucks on every corner, but there is great potential for Cuba to have a new food revolution in the coming years, especially as more Americans take an active role in the development of the country. For now, foreigners are not allowed to own property, but they can partner with Cubans.
"I've been looking into creating some kind of farm stay in the Cuban countryside," says one Cleveland restaurateur, who asked that I not mention her by name. "If that were to happen, we'd be growing all of our own food to use in the restaurant."
McNulty, for his part, would like the quality of the beer to improve in Cuba, but he's not ready to shift focus away from Cleveland.
"There's huge potential for a good craft brewery to introduce people to the joys of craft beer in Cuba," he says. "But for now, my business partners and I are going to remain focused on our local market. But you never know what the future holds!"
—Photos and Story by Laura Watilo Blake